Checking and Creating Applications
When you log in to the developer portal, you will see the list of your applications.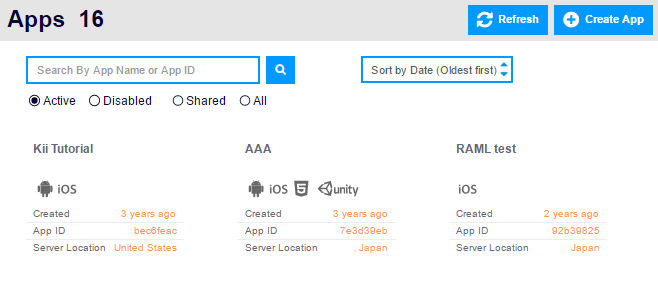 If this is your first time logging in to the developer portal, the tutorial wizard will start.
The list of applications will show up after this wizard.
Checking applciation overview
You can check an overview of each application in the list.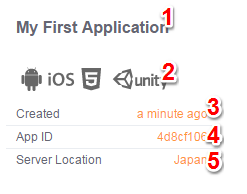 Application name.
Target platforms.
Creation date.
AppID.
Server location wherethe application is created.
Searching for applications
You can filter the applications shown on the list. You can also change their sort order.

By entering the application name or AppID in the search window, you can filter the list to show only the applications that match the condition. To bring all applications up again, press the "Refresh" button.

By selecting the radio button below the search windows, you can filter the applications by their status.

Active: Show only active applications.
Disabled: Show only disabled applications.
Shared: Show only applications in which you are a collaborator.
All: Show all applications.

By selecting an option in the pull-down menu, you can change the sort order.
Creating an application
You can create a new application by clicking the "+ Create App" button.

Click the links below for the details on how to create new applications.