Making detailed configuration
To configure your application further, click click the gear icon in the upper-right corner and click the "Setttings" icon.

The application detail configuration menu pops up.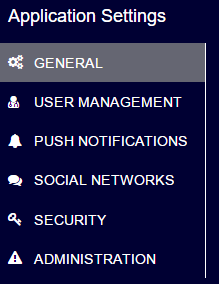 Setting the application basic information
Select "GENERAL" to check and update the application's basic information.
The updatable items are as follows. Please also read Creating applications for the description on some of these items.
Application name
Application description
Specified client SDKs
URLs of the application stores
If you update the first three items, the changes will be reflected immediately in the application list and in the application console. The last item "URLs of the application stores" is for you to leave some notes. Kii Cloud does not use these URLs.
Configuring user management features
Select "USER MANAGEMENT" to configure the email/phone verification and password reset processes. You can also configure the privacy setting (i.e., the amount of user information to be exposed to other users).
Configuring push notification features
Select "PUSH NOTIFICATIONS" to configure the push notification features.
Configuring security settings
Select "SECURITY" to configure the password reset flow and the expiration period of the access token.
Application management
Select "ADMINISTRATION" to disable the application or trasfer the ownership.